We love technology and design
At AOP we create web, mobile, video, and virtual experiences for the world's biggest brands. We've launched hundreds of apps, released thousands of hours of live content, and developed platforms engaging millions of visitors. AOP works collaboratively with our partners to find the right mix of technology, design, content, and business strategy.
Partnering with brands, small & medium businesses,
non-profits, and .gov entities since 2009.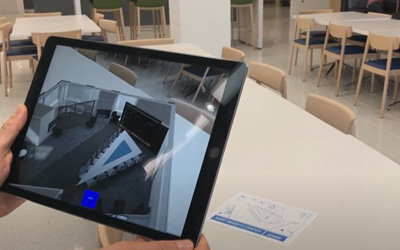 Project: KPMG Insight Center AR
Tech: Augmented Reality Experience
Strategy: Business Development & Sales Support
Solution: Virtual visit introducing innovation lab & team
Project: Gartner Research Board Virtual Events
Tech: Virtual Event Platform & Production
Strategy: Event Continuation during Covid-19
Solution: 40+ Live virtual events for C-level audience
Project: L3Harris AN/PRC-163 Handheld Product
Tech: Custom website, 3D animation, tech video
Strategy: Support product re-launch for sales/BD team
Solution: Engaging digital experience tells a technical product story
Project: State of California, CIRM Website
Tech: Website, custom grant platform & CRM customization
Strategy: Deliver key content, data and resources to constituents
Solution: Robust web experience developed over 3+ years
Project: James Beard Foundation Annual Awards
Tech: Livestream Production & Social Live
Strategy: Expand the audience through social live activation
Solution: Livestream on Facebook & Twitter
Project: Iditarod – The Last Great Race
Tech: Web, Mobile, Apple TV, e-Commerce, Livestream Production
Strategy: Engage a global audience across all platforms
Solution: Iditarod.com, Iditarod Insider & Apps
Project: Foundation for Fighting Blindness Visions Conference
Tech: Livestream Production and post editing
Strategy: Activate foundation members, community and industry
Solution: FFB Visions Live on Facebook, Twitter & YouTube
Project: LA Auto Show VR
Tech: Virtual Reality Experience
Strategy: Event Experiential Marketing
Solution: VR based autonomous vehicle ride of the future
Project: PlaySpree Game Development
Tech: HTML5, chatbot platform, NodeJS
Strategy: Create hyper casual, mobile social games
Solution: Launched with 5 custom mobile sports games